Scanshare is proud to announce a new partner in the Middle East, Africa and South East Asia area: InfoFort, an Aramex company, after they successfully attended the technical training program.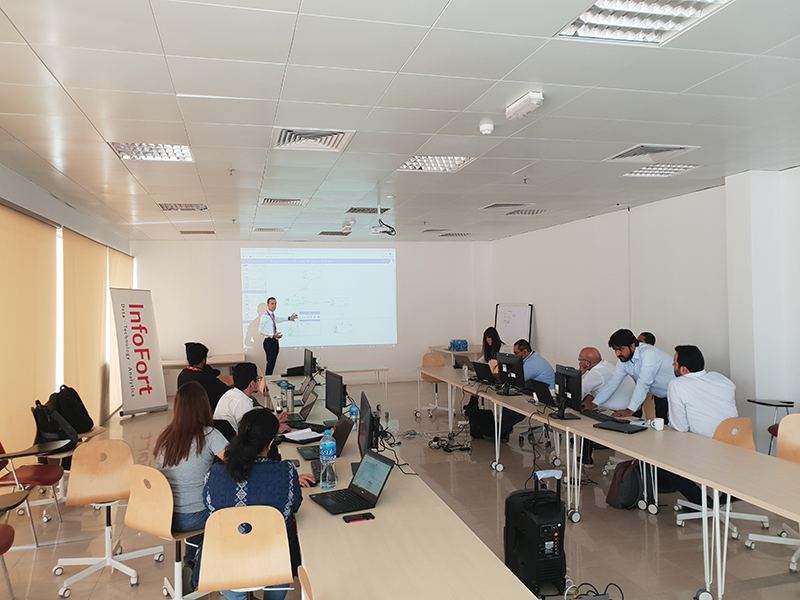 About InfoFort
Secure Information Management Solutions
Established in 1997, InfoFort is the Leading Digital Transformation Solutions Provider in the Middle East, Africa and South East Asia offering secure information management solutions and services in United Arab Emirates (UAE) (Abu Dhabi, Dubai), Saudi Arabia (Riyadh, Jeddah, Dammam), Egypt (Cairo, Alexandria), Qatar, Oman, Bahrain, Kuwait, Jordan, Algeria, Bangladesh, Turkey, Kenya, Ghana and Uganda.
InfoFort's clientele include global and local companies, ranging from small and medium sized organizations to multinationals and Fortune 500 enterprises that span a broad range of industries such as Financial Services, Legal, Healthcare, Engineering, Government, Public Services, Energy, Oil and Gas, Information Technology and Media.
InfoFort continues to develop secure, innovative and customized solutions in document and data storage and management for different industries. These solutions cover the full information life cycle and range from Records Management (Secure Document Storage & Management, Cheques Management), Electronic Records Management (Document Scanning & Capture, Electronic Document Management System-eDMS, ECM, Workflow Management & Automation), Business Intelligence and Analytics, Tape Storage Management solutions, secure and certified Shredding & Data Destruction, Fixed Assets Management and Information Management consultancy.
InfoFort's quality management system is ISO 9001:2015; in addition to OHSAS 18001:2007 (Occupational Health & Safety Management System). Both certifications are accredited by The British Standards Institution – BSI.
InfoFort is recognized a "Cool Vendor" by Gartner in their "Cool Vendors in Emerging Market 2016" report.
Mission Statement
To lead innovation in digital transformation solutions that enable organizations to digitize, automate and modernize.
Purpose Statement
To enable and contribute to economic growth and progress through unlocking the value and potential of data.
Information Management
At InfoFort we talk about information and "Information Management". Information is such a powerful word and provides massive opportunities. Information is everywhere around us. It can be on paper, transformed from paper to digital, created digitally; can reside on a DVD, a tape, hard drive, a server, a cloud network; can be stored physically and electronically; can be archived and retrieved; can be persevered and purged; Information is everywhere and it is unstructured by nature.
Information Management is what defines InfoFort and governs its solutions that aim to structure Information and help InfoFort's clients meet the global challenges, needs and demands for security, confidentiality, accessibility, compliance, resilience, business continuity, disaster recovery and preservation.
InfoFort covers the entire gamut of the Information Management industry. InfoFort is your trusted partner in document and information management solutions.